Clemens ARANEUS
Sacri sermones [Google Books]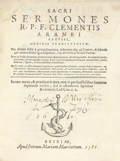 Clemens Araneus, philosopher, theologian, orator, diplomat, (Dubrovnik, 1482–Dubrovnik, 28 June 1559). After receiving first education in Dubrovnik he studied theology in Venice, Perugia and Napoli. He entered Dominican Order in his hometown, and worked as a diplomat for Pope Paul III, Habsburg monarchy and Republic of Ragusa. In his unpublished philosophical work Commentaria in quatuor libros Sententiarum (1549) he interprets the work of scholastic theologian P. Lombardus.
WORKS: Liber casuum conscientiae; Super decretalia flores; Qaedam dubia super epistolas Pauli; De potestate Petri et successorum; Liber consiliorum; Expositio super epistolam Pauli ad Romanos, Venetiis, 1547; Sententiae ex Doctoribus ad casus particulares facileresolvendos et breviter per modum alphabeti excerptae; Quodlibet declamatorium, Venetiis, 1541, Brescia, 1586.
LITERATURE: S. Krasić, "Klement Ranjina", Prilozi za istraživanje hrvatske filozofske baštine 1–2 (1975), 287–290; M. Biškup, "Bogoslovne kreposti u djelima Klementa Ranjine", Glas Koncila, Zagreb, 2000; M. Biškup, "Klement Ranjina: duhovni pisac i propovjednik", in F. Šanjek (ed.), Dominikanci i Hrvati: osam stoljeća zajedništva (13.-21. stoljeće), Kršćanska sadašnjost i Dominikanska naklada Istina, Zagreb, 2008.