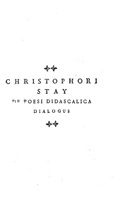 Christophor Stay, philosopher, poet (Dubrovnik, 26 December 1719–Rome, 12 March 1777). His brother, Benedikt Stay, was famous poet, philosopher, diplomat and scientist. Ch. Stay was educated in Dubrovnik, but left early his hometown to live in Rome. He was secretary of Pope Clement XIV, and worked as diplomat for Republic of Ragusa.
WORKS: Christophorus Stay Fri Anselmo Katich salutem. Epistola i Christophori Stay De Annuntiatione B. Mariae Virginis carmen, rkp. (Arhiv Male braće, Dubrovnik); In funere Ioannis Alleti, primi a secretis Reipublicae ragusinae ministri Christophori Stay, civis ragusini oratio, manuscript; "Benedicto fratri salutem", in Benedictus Stay Ragusinus, Philosophiae... versibus traditae libri sex, Venetiis, 1744, 1749; "Ad Benedictum fratrem epistola", in Benedictus Stay, Philosophiae recentioris versibus traditiae libri X, Romae, 1755, 1792; "De poesi didascalica dialogus", in Philosophiae recentioris versibus traditae a Benedicto Stay libri X, Romae, 1792.
LITERATURE: Z. Posavac, "Povijesni susret umjetnosti sa znanošću od romantičnog klasicizma do realizma", Croatica 11–12 (1978), 107–137; R. Seferović, "Kristofor Stay nad odrom Ivana Natalija Aletina u Dubrovniku", Latina et Graeca 9 (2006), 51–71; "Stay, Kristo, hrvatski filozof i pjesnik (1719–1777)", in S. Kutleša (ed.), Filozofski leksikon, Leksikografski zavod Miroslav Krleža, Zagreb, 2012, 1097.