Petrus Paulus VERGERIUS IUNIOR
Francisci Spierae Civitatulani horrendus casus [Google Books]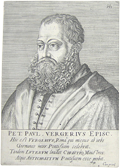 Petrus Paulus Vergerius iunior, lawyer, diplomat and religious reformer (Kopar, 1497/8–Tübingen, 1565). He received first education in Venice. Afterwards he studied law at Padua University. He was bishop of Modruš and Kopar, but he converted to Protestantism and that was the reason for his excommunication from Catholic Church in year 1549.
WORKS: Juris civilis scholastici praelectio, Venezia, 1523; De republica Veneta, Venezia, 1526; Ad amplissimum cardinalem Sanctae Romanae Ecclesiae Marinum Grimanum, Murano, 1528; Adversus apostolas Germaniae; De unitate et pace Ecclesiae, Venezia, 1542; Francisci Spierae Civitatulani horrendus casus, Basel, 1549; Instruttione christiana, Poschiavo, 1549; Dodici trattarelli, Basel, 1549–50; Epistola de morte Pauli III, Basel, 1549; Declaratio iubilei futuri Romae anno MDL, Basel, 1550; A'Principi d'Italia, 1550; Del matrimonio dei preti e delle monache; Discorsi sopra i fioretti di San Francesco; Le otto difesioni del Vergerio vescovo di Capodistria; Due lettere di un cortegiano; Ad serenissimum Angliae regem de creatione Julii III, 1550; Il Vergerio a papa Giulio III; Concilium non modo tridentinum sed omne papisticum, perpetuo fugiendum esse omnibus piis, 1553; Consilium quorundam episcoporum Bononiae congregatorum, 1553; Sopra le letere volgari di M. Claudio Tolomei vescovo di Curzola, Basel; Fondamento della religione christiana per uso della Valtellina, 1553; Stanze del Berna con tre sonetti di Petrarca, 1554; Della Camera e Statua della Madonna di Loreto, Tübingen, 1554; Catalogo de Arcimboldo vescovo di Melano, 1554; Giudicio sopra le lettere di tredici huomini illustri, 1554; Lac spirituale, 1555; Retrattazione del Vergerio, Tübingen, 1556; Actiones duae Secretarii Pontificii, Pforzheim, 1556; De idolo Laurentano, Tübingen, 1556; Historia di papa Giovanni VIII, che fu femina, 1556; Annotationes in catalogum haereticorum, 1556; Ad serenissimum Sigismundum Augustum, Poloniae regem, 1558; Dialogi quatuor, Tübingen, 1559; Agl'Inquisitori che sono per l'Italia, Tübingen, 1559; De natura et usu sacramentorum, 1559; Comparation tra il concilo Basiliense e il Tridentino, Göppingen, 1561; All serenissima regina d'Inhilterra, Tübingen, 1562; Ai fratelli d'Italia, 1563; Opera adversus papatum, Tübingen, 1563; Risposta del Vergerio ad una inventiva di fra Ippolito Chizzuola da Brescia, 1565.
LITERATURE: P. Vrankić, "Petar Pavao Vergerije, mlađi (1497/8–1565)", Prilozi za istraživanje hrvatske filozofske baštine 5–6 (1977), 103–132.